Steel Roller Coaster Poll 2006
Europe Claims Four of the Top Five Steel Roller Coasters in 2006!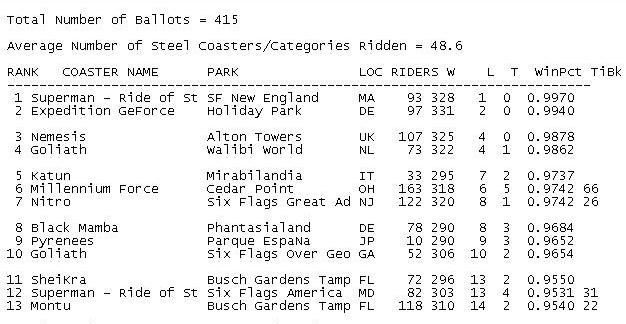 Note: Scroll to the bottom for links to the results for all 300+ steel roller coasters in the poll.



    For the sixth year in a row, the same two steel roller coasters are in the top two of the poll.
Six Flags New England's Superman: Ride of Steel lost only one mutual rider comparison (9 to 17 versus Expedition GeForce),
whereas Expedition GeForce lost two mutual rider comparisons to lower ranked rides, including a 2 - 1 loss amongst the 
only three riders who had ridden both Expedition GeForce and Australia's new Superman Escape.  

    Nemesis came in at #3, Holland's Goliath at #4.  Both placements were the best ever for those two European thrillers.  Italy's Katun 
finished fifth for a second straight year, just ahead of #6 Millennium Force and #7 Nitro.  Germany's Black Mamba was #8, edging
Georgia's version of Goliath at #10 for the top new steel roller coaster of 2006.  Japan's Pyrenees again placed well at #9.

    Aside from the two new rides in the top 10, here are the other 'new to the poll' rides that finished in the top 100:
#16 Superman Escape - Warner Bros. Australia,  #25 Goliath - La Ronde,  #30 Dragons Fury - Chessington,  #33 Speed: No Limits - Oakwood,
#34 Tatsu - Six Flags Magic Mountain,  #36 BMRX - Kobe Portopialand,  #43 Speed Monster - Tusenfryd,  
#44 Expedition Everest - Disney's Animal Kingdom,  #60 Stealth - Thorpe Park,  #70 Patriot - Worlds of Fun

   With ten new rides in the top 44, it was obviously a great year for new steel roller coasters!

   "Favorite Wood Coaster" would have finished 3rd this year, behind only EGF and Superman (actually tying Superman among its riders) . 

Participation was up this year to 415 ballots, surpassing last year's record of 321.  Keeping with this year's European theme:
The Steel Poll has seemingly become very popular among many German coaster enthusiasts.   For example, It is interesting to note that 
Expedition GeForce had more riders take the poll than SFNE's Superman: Ride of Steel.  Also, Phantasialand's Black Mamba had 50% 
more riders participate in the poll than did the other 'new for 2006' ride in the top ten, SFoG's Goliath.  Ironically, it seems that 
those German voters, on average, rated EGF lower (especially in relation to Black Mamba) than did other voters.



    Within the top 20, the mutual rider tiebreaker was used several times to separate coasters that had
the same number of blemishes (losses + (ties/2)) on their record....note that there are several pairs
of coasters in the top 20 for which the coaster with the marginally better winning percentage (due to 
more valid comparisons against much lower rated coasters) is the lower ranked one of the pair.

    Busch Gardens Tampa is still the park with the top steel coaster duo (and trio), 
with #11 Sheikra, #13 Montu, and #21 Kumba.

    The following chart shows the mutual rider comparisons for the top 13 steel roller coasters.  
Preferences are listed for the people who rode each pair of coasters.  The chart should
be read from left to right along the line for each of the top coasters listed at the left.  For instance, it can 
be seen that #1 Superman won the comparison with #6 Millennium Force by a convincing 57 to 12 margin.

NOTE: the order listed in the spreadsheet is not the official order of finish.




Although M & D's Tornado is listed below Goudurix this year, 'fans' of the French ride will be heartened to know
that Tornado had only 7 riders take the poll and 44 valid mutual rider comparisons (of which the 1-1 deadlock with
Goudurix was not one).

Note that any links below that are not yet active will be soon (when they are completed).


2006 Steel Roller Coaster Poll Results Six Year Chart
Ordered by this year's results for all 320+ coasters, with each coaster's results dating back to 1999 also listed on the same line, this chart is the best way to see trends and consistencies in each roller coaster's ranking over the years. Shows each of the 320+ coasters winning percentage, the number of wins, losses, and ties for each and tiebreaker information. Look for your ballot, a friend's ballot, or for ballots that have similar 'tastes' for ideas on which steel roller coasters you should seek out. Has the coaster v. coaster voting results (including favorite wood coaster) showing which coaster of each pair was preferred (and by what margin) by the people who have ridden each pair of coasters. (LARGE: 2 MB Excel Spreadsheet) Note: All comparisons are actually in the file, but only the first 255 columns/coasters can be seen when using Excel. NOTE: the order listed in the spreadsheet is not the official order of finish. These results help highlight how each steel roller coaster was running this year. Shows cumulative locations for the voters who specified their state or country on their ballot. Shows which ride forces the voters preferred and also six top 20 rankings based only on voters who listed each of the six ride forces as their favorite (or co-favorite). For an explanation of the tabulation algorithm and much more about this poll, visit the website BestRollerCoasterPoll.com